John Buxton - 'The End of a War'
For the VEday 50 celebrations in 1995, Murray Maclean published a book of the wartime poems of his godfather, John Buxton, written while a prisoner of war 1940-45. For five years John Buxton was held in captivity in Laufen and Eichstatt camps in Germany, separated from his wife, Marjorie. During this time he wrote a detailed diary that Murray has inherited but to date it has not been published.

In honour of VEday 75 and also in sympathy, as we ourselves have been in lockdown due to Covid-19 (but only for five weeks and not five years), we are publishing John Buxton's diaries for the days leading up to his liberation in May 1945.

There were many celebrations at home on 8th May 1945 and this account shows us how relieved and joyous were the soldiers in captivity with the prospect of coming home, seeing their loved ones and being free again.
---
John Buxton - About The Prisoner and Poet
John Buxton was born at Bramhall, Cheshire, in 1912, the youngest of three children. His father, Fred, was the owner of a Lancashire cotton mill which specialised in making calico and the canvas lining for Avon motor tyres.

John was sent to Malvern public school and thence went to New College, Oxford, in 1931 where he studied literature. He remained at Oxford, as a postgraduate, until 1936. He travelled in Europe with his parents as a schoolboy and later to Norway as a student.

To his father's considerable dismay he showed no inclination to return to the family business. While trying to make up his mind what to do, he revisited Norway to do more bird-watching and skiing.

War broke out soon after John and Marjorie were married. While awaiting his call-up, he responded to the War Office appeal to all Colleges for men with special language qualifications. His earlier experience in the school Cadet Force ensured that he went straight to an OCTU at Aldershot. He was there only two months before being posted, as an Intelligence Officer, to the 1st Independent Company (later to become the 1st Commandos).

His knowledge of Norway and its language made him an ideal candidate for the Norwegian campaign. John landed in Norway on May 4th 1940 and was captured on May 12th while trying to rejoin his company in their retreat from Mo. He spent the rest of the war in a series of P.O.W. Camps deep in Germany.
Read diary extracts :: Read poems from Five years to Liberty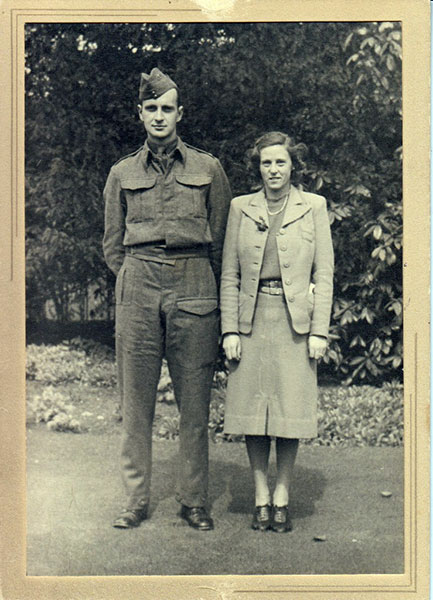 John Buxton and Marjorie 1940